Artificial intelligence is never too far from the headlines these days, as the debate over its impact on business and global security continues.
We've even seen UK Prime Minister Rishi Sunak hold a global summit on AI at Bletchley Park, which was attended by the likes of US Vice President Kamala Harris, Sam Altman of OpenAI and tech billionaire Elon Musk.
But what does it mean for you and your day-to-day life?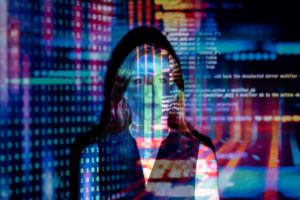 One interesting development in recent months has been the surge in the number of people turning to AI for financial advice.
It's perhaps no surprise therefore that many of us would be comfortable asking AI for guidance on managing our investments in particular.
According to research by Avaloq, most investors in the UK are happy to involve AI in the financial planning process, performing tasks such as analysing their portfolio performance.
But crucially, many are still committed to retaining the human touch, with 54 per cent saying they would take financial advice from a combination of human beings and AI.
By contrast, just 15 per cent said they were comfortable with the idea of letting AI completely lead the investment process.
That's perhaps a reflection of where many people are in wider society. For lots of us, AI has become an incredibly useful tool, helping to speed up many lengthy processes and quickly make sense of complex information.
But at the same time, we're not ready to completely dispense with people and the talent, knowledge, expertise and insights they can bring.
For many reasons, the human touch counts when it comes to financial advice .
Firstly, you want to be confident that the advice you're getting is based on a deep understanding of your specific needs, circumstances and goals, rather than algorithms and historical data.
A human financial planner will always make sure they fully understand where you are and where you want to go, so they can offer advice that's appropriate and genuinely in your best interests.
Another important benefit of speaking with a real flesh and blood person is the fact that they are professionally regulated and required to meet certain industry standards.
For example, the Financial Conduct Authority's Consumer Duty requires financial advice businesses to put consumers at the heart of their business and focus on delivering good outcomes for their clients.
You can also easily check a financial planner's credentials and areas of expertise before getting in touch, so you can be sure they are reputable and rated highly by their clients.
Finally, it's worth pointing out how speaking to a real person can help you keep your emotions in check, as investing can be something of a rollercoaster.
For example, if there's turbulence in the markets that's affecting the value of your investments, you might be tempted to panic and sell up, with no consideration for the losses you could face.
Or perhaps you're investing in a certain asset class for the first time and are feeling anxious, uncertain and daunted by the idea of moving into new territory.
In these circumstances, you want and need a steady hand on the shoulder, so you can feel reassured you're always making the right decisions, even when feelings are running high.
That demands a degree of emotional intelligence from a financial planner, and that's certainly something that AI simply doesn't have.
If you have any questions on managing your finances and working to achieve your financial goals, please get in touch with our friendly team of specialists, and we'll be happy to speak with you.
Sources
https://www.trustnet.com/news/13395312/two-thirds-of-uk-investors-would-use-ai-in-their-financial-planning
https://www.altfi.com/article/most-uk-investors-comfortable-using-ai-for-investment-advice