There's always been something of a taboo around discussing money, so it's perhaps little surprise that so many of us are tight-lipped about financial matters with friends and family.
But we were taken aback by a new survey showing how many people don't even talk about their finances with their husband, wife or partner.
According to a study by Starling Bank, 11 per cent of married people don't know if their partner has any debt, while 14 per cent are unsure of how much their other half has in savings.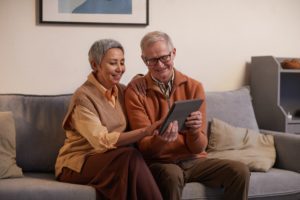 Even among those who are due to tie the knot, a similar pattern can be found, with nearly a third of engaged people admitting they don't know if their future spouse has any debt, and almost a quarter not knowing if they even own their own property.
These are worrying figures, as they suggest that many people are storing up big problems for the future – and not just financial ones.
A marriage is a union in every sense of the word, so even if you don't have a joint bank account, you've got to have a mutual understanding of your financial position.
Being open and honest about your finances demonstrates a degree of trust and openness in your other half.
That can only stand you in good stead as you navigate the various challenges that life can throw at you, and give you confidence that you can overcome them together.
Discussing finances with your spouse can also help you prevent arguments, from minor disagreements to blazing rows.
Money is often the cause of conflicts in the household, as your spending habits could lead to resentment and misunderstandings. But if you both know each other's financial position, there's no reason for a row to break out.
Transparency about money can also give you a good insight into whether the two of you are compatible.
Of course, opposites can attract, but could you, for example, comfortably live with someone who spends excessively and recklessly, when you're more cautious and responsible with money?
You can only really judge whether a person is financially compatible with you if you know the position you're both starting from, and whether they're putting you in any financial risk.
That's really important if you have particular ambitions and goals in mind, many of which will hinge on how much money you have in the bank.
For example, you might want to buy a house or purchase an investment property. Perhaps you want to send your child to a fee-paying school, or put money aside for your retirement.
If you don't discuss each other's financial situations, you can't make sure your wider goals in life are aligned, and that you're doing everything you can to achieve these objectives.
Talking about money isn't necessarily an easy thing to do, and we fully understand that.
But the benefits of overcoming that awkwardness and having this conversation are really worth it, so you can move forward in life working in lockstep towards the same goals.
If you have any questions about managing your finances and setting goals for the future, please don't hesitate to get in touch with our friendly team of specialists, and we'll be happy to speak with you.
Sources
https://www.starlingbank.com/news/a-quarter-of-uk-couples-commit-financial-infidelity/