High inflation and wider cost of living pressures have forced many of us to re-evaluate our spending over the last few years and decide what's really important to us.
So it's interesting to see that holidays are firmly at the top of this list, ahead of home improvements and socialising with friends.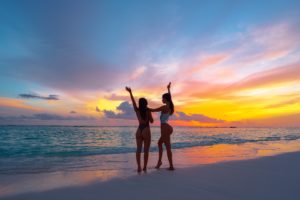 According to a Travel Counsellors survey, 45 per cent of British consumers rate trips away as their main spending priority over the coming year.
By contrast, just 30 per cent say they are putting home and garden renovations first, while 28 per cent want to prioritise eating and drinking out.
Furthermore, only 27 per cent cite buying clothes, shoes and accessories as their main financial focus for the year ahead.
So why is this? Is there something that holidays can offer that other discretionary purchases can't?
The survey certainly suggests so.
Almost half of those polled said they want a holiday so they can relax and unwind, while nearly a third considered it an opportunity to escape from everyday life.
We're living through turbulent times and are often confronted with alarming, frightening headlines, so it's clear that holidays are seen as an important way to maintain and improve mental health.
The legacy of the Covid-19 pandemic may also be playing a part, as the restrictions and rules that governed our lives are still fairly fresh in the memory.
In the past, we may once have taken holidays for granted.
But nearly four in ten respondents say they value holidays more since the pandemic, while almost one in four feel more motivated to get out and explore the world since Covid.
After going through the experience of having freedoms taken away, it's perfectly natural that many will no longer take many of life's pleasures for granted and will savour the chance to travel more than ever before.
As the saying goes, you don't know what you've got 'til it's gone, so we're going to make the most of it now that we have it back.
There may also be an element of keeping up with the Joneses at work here too, as 16 per cent said they were prompted to book a holiday after hearing about their friends' trips away.
Similarly, 15 per cent were inspired after seeing other people's holiday snaps on social media.
Of course, it's important to remain financially prudent when you're spending on what might be perceived as luxuries and make sure you're living within your means, particularly if you're competing with people you know.
According to the Travel Counsellors study, 76 per cent of respondents intend to spend at least as much on a holiday in 2024 as they did this year.
In addition, 81 per cent admitted they're likely to go over their planned budget when on holiday.
But with careful planning, there's no reason why spending on something you consider a priority should affect your wider financial situation, and potentially knock you off course as you work towards your goals.
If you have any questions about managing your finances, so you can confidently pay for luxuries while keeping your long-term objectives in sight, please don't hesitate to get in touch with our friendly team of financial planners.
Get in touch now and we'll be happy to speak with you.
Sources
https://travelweekly.co.uk/news/travel-agents/travel-counsellors-poll-finds-consumers-defy-budget-squeeze-to-prioritise-holidays
https://www.standard.co.uk/business/money/76-planning-to-spend-at-least-as-much-on-travel-next-year-as-they-did-in-2023-b1114261.html