Autumn Budget 2018 Overview
The Chancellor delivered his Autumn Budget to Parliament yesterday. This was earlier than usual to avoid clashing with the final Brexit negotiations in November. It was also unusual in that it took place on a Monday. Traditionally, budgets are announced on a Wednesday, but that would have meant it would have been Halloween and links to Hammond's House of Horrors were already being made…
Mr Hammond had already indicated that the government's approach to the economy was to 'get debt falling' so, without further ado, let's see how they are going about that and what new measures are being proposed.
To get up to speed with the main points in the Autumn Budget Statement, just click on the button below.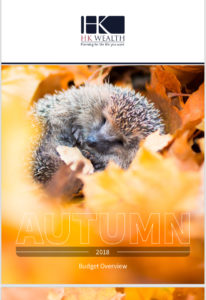 We hope you enjoy our Budget round-up. Do get in touch with us if you have any questions or queries.