Ever-changing international travel rules have been the bane of the travel industry and sunseekers alike over the last two years.
But now that the rules on pre-departure tests have been relaxed, it looks like brighter times lie ahead for both the industry and consumers, as holiday bookings have shot up in the last few days.
Budget airline easyJet, for example, has seen its bookings go up by nearly 200% week-on-week, with Spanish tourist hotspots such as Malaga and Tenerife proving especially popular.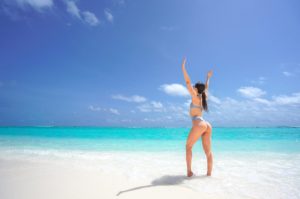 Sophie Dekkers, chief commercial officer at easyJet, has put the surge down to "pent up demand", saying many are "desperate to get away this year".
"This survey further underlines the fact that people want to make up for lost time as soon as they can," she said.
Similarly, Jet2 has seen a "huge spike" in bookings, with bookings going up by 150% on Thursday and demand rising to "around pre-Covid levels".
Speaking to BBC Radio 4's Today programme, chief executive Steve Heapy said the relaxation of travel rules has given people the confidence that "they won't be caught in resorts quarantining".
"We can't just jump into lockdowns and further restrictions every time there is a new variant," he continued.
"We have to learn to live with it and hopefully this is the beginning of the end and we can get back to some normality."
For many people, going abroad to soak up the sun, immerse themselves in another culture, experience the buzz of a new city, is one of the great joys of life, and for people with loved ones who live overseas, the strict travel restrictions have been heartbreaking and kept countless families apart.
We can only hope that Mr Heapy is right when he says this relaxation marks the beginning of the end, and that 2022 is truly the year in which Covid moves squarely into the rear-view mirror.
So now that the rules on testing before departure have been eased, where do people want to go this year?
A new survey from ABTA – The Travel Association suggests there's quite a mix, with many relying on trusty old holiday favourites and others heading to more distant destinations.
Spain, unsurprisingly, tops the list, with 29.3% of those polled said they plan to visit the country this year.
The USA came second in the rankings (18.1%), in particular, New York and Florida, followed by France (17.8%), Italy (16.4%), Greece (10.1%), Portugal (8.7%) and Germany (8.2%).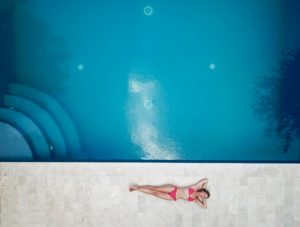 While European countries dominated, the USA was not the only long-haul destination attracting attention from British travellers. Australia and Canada made it to eighth and ninth in the list respectively, with Turkey rounding off the top ten.
But although the overwhelming view is that the travel industry may now be turning a corner, it seems that a bit of residual Covid-related anxiety is lingering, among consumers at least.
One in three people polled by ABTA said they'd now be more likely to book a foreign trip through a travel professional than they would have been before the pandemic. Some 47% of these people said this was because they could provide guidance on coronavirus travel regulations, while 46% wanted the security offered by a package holiday.
So while people are heading abroad in greater numbers, many, quite rightly, want a safety net to avoid getting tangled in a financial, logistical and bureaucratic mess. And who can blame them? There's no doubt that we all deserve a holiday this year.