With so many different resorts out there, it's easy to be so spoilt for choice that you just can't decide where to go. But what if you want to try somewhere a little off the beaten track? Many skiers and snowboarders often opt for the most popular resorts, leading to inflated prices driven by demand. If you're looking for a more unusual experience, keep reading…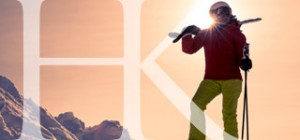 Mauna Kea: Hawaii 
With the snow season taking place between December and February each year, Mauna Kea offers a unique chance to glide along the slopes of Hawaii. The area is devoid of ski lifts, marked runs or ski-carved moguls. It's an area for experts, as you'll have to take an off-road vehicle on the roads between observatories on the 4,270 metre tall mountain. Although lacking in resort facilities, it's a great example of how such comforts aren't a necessity when it comes to alpine enjoyment!
Ski Dubai: Dubai 
Moving on from a tropical island to the desert, Ski Dubai offers an all year round skiing experience at one of the world's largest indoor ski areas. Ski Dubai houses five full ski runs, including the world's first indoor black run and a freestyle zone. It's the perfect opportunity for those who like to experience both climates while taking a holiday.
Ben Lomond: Tasmania 
Ben Lomond allows skiers to experience snow in an area better known for its surfing and sandy beaches. Being located in the Southern Hemisphere, it means that it has a ski season between July and September, making it a great opportunity for those of you who want to head to cooler climates during the summer.
Mount Etna: Italy
If the black diamond runs of Europe don't quite scratch that itch, why not try carving some tracks along an active volcano? Mount Etna, based in Sicily, houses two ski areas in Provenzana and Nicolosi, both with accessible ski lifts. It has a longer snow season than most, running from November until April. The views from the summit of this mighty mountain are incredible, although skiing can occasionally be hindered by the odd bit of volcanic activity here and there.
Monte Kaolino: Germany 
With our final entry, we're doing away with snow entirely. Although it is still seasonal (April – October), Monte Kaolino gives skiers the unique opportunity to ski on beautiful, Quartz sand. There's one lift to take you to the top of its flagship 200 metre run and it's sure to provide a dazzling experience. You can even leave your thermal gear at home!
We hope you have enjoyed this break from our regular financial articles and that we've inspired you to try something a little more unusual for your next ski trip.
Sources
https://www.mountainwarehouse.com/community/unusual-places-to-ski/