The International Monetary Fund (IMF) trimmed its growth forecasts for the global economy for both this year and next year. Growth for this year is forecast to be 3.2% – down from the 3.3% forecast in April – with growth for 2020 forecast to be 3.5%. Growth "remains subdued" said the IMF, with an "urgent need" to reduce trade and technology tensions.
However, the IMF did raise its forecast for UK growth, from 1.2% to 1.3%.
UK
Bookmaker William Hill added some gloom to a sunny July with plans to close 700 shops – putting 4,500 jobs at risk.
There was better news away from the high street as Amazon announced plans to create up to 2,000 new jobs, taking its UK workforce up to nearly 30,000.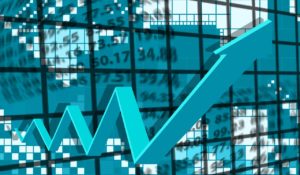 Japanese telecoms company NTT announced that it would be opening a global HQ in London for one of its subsidiaries and at the end of the month Hitachi Rail announced a £400m investment at its plant in Newton Aycliffe, County Durham.
Jaguar Land Rover also unveiled an investment of 'hundreds of millions' to build a range of electric vehicles at its Castle Bromwich plant, which will secure the jobs of 2,700 workers at the plant. But – as there was across Europe – there was also bad news for the UK car industry, with Nissan threatening to cut 10,000 jobs worldwide and the Society of Motor Manufacturers and Traders saying that overall investment in the industry has 'plummeted.'
'Fintech' (financial technology) investment is booming in the UK and 2019 is set to be a record year, as funding reached £2.3bn in the first six months of the year.
The FTSE 100 index of leading shares closed July up 2% at 7,587 while the pound closed the month down 4% against the dollar at $1.2218.
Europe
Deutsche Bank announced plans for 18,000 job losses. There are rumours that the bank's customers are pulling out $1bn (£800m) a day amid worries about the bank's continuing solvency.
There was also more gloom for the European car industry as car sales dropped by 7.9% in the European Union in June, the biggest fall since December and 130,000 registrations down on the same period last year.
The German DAX index was down 2% in July to 12,189 while the French stock market fell just 20 points – unchanged in percentage terms – to 5,519. In Greece the market rose 4% to 900 as the centre-right under Kyriakos Mitsotakis won the snap general election.
US
It was a good start to the month in the US, as figures for June confirmed that 224,000 jobs had been created against the expected 160,000. Normally this would have persuaded the Federal Reserve to keep interest rates on hold.
The Fed reduced US interest rates for the first time since 2008, cutting them by 0.25% to a target range of 2-2.25%.
In company news, there was the now seemingly-monthly bad news for Facebook, which faced a $5bn (£4.1bn) fine over privacy breaches, while US Treasury Secretary Steve Mnuchin criticised its plans for a crypto-currency, telling a press conference that it could be used by money launderers and terrorist financiers and was a national security issue.
Apple posted a small rise in sales for the third quarter of its year – although iPhone sales and profits both dipped. Alphabet (Google's parent company) and Amazon posted more impressive figures, with both firms reporting sales increases of close to 20% for the latest quarter.
The Dow Jones Index rose by just 1% in the month, closing at 26,864.
Far East
China's economy grew by just 6.2% in the second quarter of the year, the slowest rate of growth in China since the 1990s.
The continuing trade tensions with the US meant that both China's exports and imports were down when figures for June were reported, with exports down by 1.3% and imports down by 7.3% as domestic demand slowed.
It was a disappointing month on Far Eastern stock markets as three of the four major markets fell. China's Shanghai Composite Index was down 2% to 2,933 while the Hong Kong market was down by 3% to 27,778. South Korea suffered a sharper fall as the market dropped by 5% to end July at 2,025. The one bright spot was Japan's Nikkei Dow index, which was up 1% in the month to 21,522.
Emerging Markets
It was a relatively quiet month for our Emerging Markets section. Of the three markets we cover, Brazil was the only one to make any gains in the month with the stock market rising just 1% to 101,812. The Russian market slipped back by a similar amount, closing down 1% at 2,739. However, India suffered a sharper fall, sharing the month's wooden spoon with South Korea as it fell 5% to end July ay 37,481.
We hope you find time for some relaxation as summer rolls on, see you next month!
Sources
http://cs.mail-first.co.uk/wp-content/uploads/2019/08/August-Market-Commentary-Sources.pdf